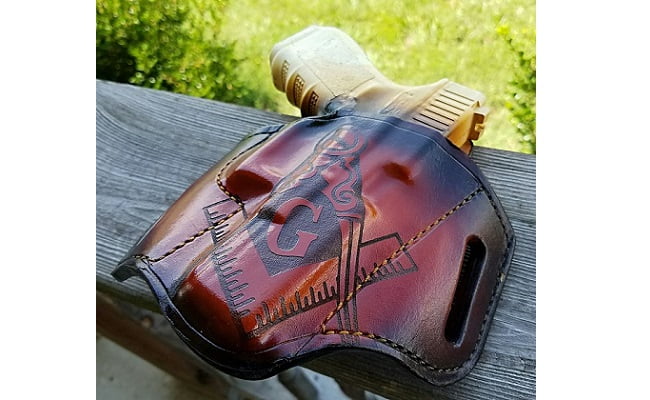 A pancake holster is made up of two pieces of material stitched together to produce a flat-like pouch. As the name suggests, this little pouch resembles a pancake, thus the name.
Law enforcement and civilians prefer the pancake holster to carry weapons because of its superb performance in concealing the gun. Pancake holsters sit close to your body, high on your hips, and are not visible even if you wear lighter clothes.
Most pancake holsters available on the market today feature two and three belt slots. A prerequisite before you can wear a pancake holster is you need to be wearing a belt because you will loop your holster.
It is recommended that three-slot pancake holsters are worn on your stronger side or when you have no option but to have it on your weaker side, use it as a cross-draw holster.
Advantages of pancake holsters
It is no wonder that many gun owners would have a pancake holster or two to have their guns close. The many advantages of pancake holsters make it a great purchase.
If you are interested in getting one for yourself but have some hesitations, the following perks can surely make you confident in buying one.
Excellent Concealment – law enforcers and civilians that carry but would need their weapons obscured love how pancake holsters can conceal so well. It doesn't have those budging outlines that can give away the fact that you are carrying. Even if you are wearing light clothing, the holster can mold your gun close to your body.
All Day Comfort – with pancakes holsters, you need to attach it to your belt and then position and move it anywhere along your waist. Leather pancake holsters especially mold to your body so you can bend, run, sit, and do your usual activities without that feeling of something pushing in your skin.
Guaranteed Security – the last thing you need during a chase or a confrontational situation, and suddenly your holster falls. It becomes a distraction that can lead to a deadly outcome. If your pancake holster is securely attached to your belt, it won't go anywhere. And since it is close to your body and usually hidden by the tails of your shirt and jacket, it won't be easily grabbed or removed from you.
Disadvantages of pancake holsters
All kinds of holsters, including the pancake would have some drawbacks. It is wiser to be aware of these opportunities to find a workaround and not be caught off-guard that it is not working as expected.
Here are some of the reasons why some gun owners would say no to a pancake holster:
Challenges in re-holstering – since pancake holsters are too secured, re-holstering might not be as seamless as drawing it out. The precious seconds you need to fumble around to get your gun holster back can be enough turn-off for some owners. Sure, it gets easier with practice, but this can make all the difference in real-life situations.
Wearing a Belt is a Must – if you want to use a pancake holster, then you always need to be wearing a belt because this is where you'll attach it to. For some, the belt itself and having it in your middle all day might not be a comfortable option.
Types of pancake holsters
Pancake holsters are generally classified based on the material that they are made. Conventionally, holster artisans only produce pancake holsters made of leather, but today, there are new varieties of materials like molded Kydex, cloth, and nylon.
So far, the market today is a tight competition between the traditional and all-around favorite leather Kydex materials.
How to care for and maintain
Depending on the material used for your pancake holster, care and maintenance are all relatively easy and almost similar. The key to taking care of it is doing it regularly. You don't just begin maintaining it when there are already tell-tale signs of damage.
For those made of leather, you can use a damp and soft cloth to clean it. You can also regularly apply some leather conditioners to help it retain its shape and color while promoting a softer feel. Just make sure that every after cleaning, the holster is completely dried.
For Kydex and nylon pancake holsters, wiping them with cloth, lukewarm water, and soap should be enough. Just remember that you don't need to submerge it in water, and you need to ensure that it is completely dry before subsequent use.