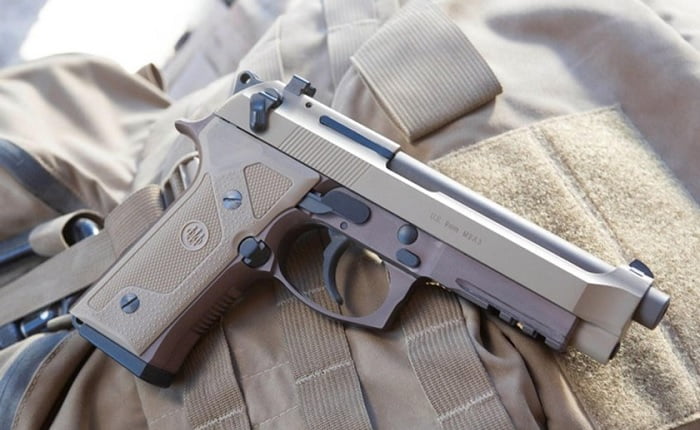 Holsters are the eternal companions for all guns as they ensure safety of both the user and their surroundings. However, finding the best Beretta M9A3 holsters can be relatively challenging since there is a wide selection of them.
To determine the best, you must consider numerous factors and weigh the pros and cons of each choice. Confusing, right? Do not worry! We will help you out. This article will discuss what to know about M9A3 holsters in the FAQs section. It will also highlight a buying guide that you can follow and a product reviews section to get you started.
What is the Best Beretta M9A3 Holster
---
How to Choose the Right Holsters for Beretta M9A3
Construction and Material
Holsters are made of different materials; however, the most popular ones are made from leather, nylon, and polymer.
Leather
Leather holsters are very durable and are made of high-quality materials. Unlike the other two, these holsters conform well, making them more comfortable to use. Leather holsters also retain their shape well, adequately supporting your handgun.
However, leather holsters can be expensive and require a "break-in" period. They are also not ideal in hot and humid climates since they can wrinkle.
Nylon
Out of the three, nylon holsters are usually the cheapest. While cheap, they are also impressively durable and comfortable to use. Nylon holsters also feature a universal fit since they are not designed for specific firearms.
However, there are not many nylon holsters in the market. Its material also gives it less structure, meaning less structural integrity and security for your handgun.
Polymer
Polymer holsters also have excellent shape-retaining abilities; however, they do not need a "break-in" period like leather ones. They are also relatively cheap and lightweight.
However, polymer holsters can result in noisier drawbacks. Sometimes, the material can also scratch your handgun's finish.
Stitching
You should also consider the holster's stitching patterns. Low-quality holsters tend to wear out and fall apart quickly after continuous use.
You should first test out the holster to see its quality and durability. While you cannot always tell weak stitching, there are a few telltale signs.
Retention
Retention is an essential factor since this pertains to how well the holster can secure your handgun. Holsters with low-retention qualities often have your handgun slipping out of your pocket, which can be dangerous.
Retention abilities depend on the holster's design. Holsters usually come with a thumb strap to keep the gun in place. Others also use tensioning screws for retention; however, this can be a hassle since even a slight turn of the screw will affect the handgun's security.
Carrying Style
Holsters come in various carrying styles and designs. However, the outside-the-waistband (OWB) and inside-the-waistband (IWB) types are ideal for handguns.
IWB holsters are ideal for concealed carry since your clothes hide the holster underneath. However, this can be uncomfortable for some and may take some practice. The position also makes it complicated to unholster your gun on time.
OWB holsters are suitable for open-carry situations. Their positions make it easy to draw your weapon and shoot. However, you need to be mindful of gun regulation laws since some states require gun licenses.
---
Top 6 Best Beretta M9A3 Holsters Reviews
1. BLACKHAWK OWB Holster with MultiFit Stream Light
The BLACKHAWK OWB holster is made of polymer and comes with a sleek black exterior. BLACKHAWK holster's free-floating design prevents the holster from damaging the handgun since it keeps it locked into a rail attachment device.
Moreover, the extra clearance this affords makes it easier to attach and allows debris and dirt to fall through.
BLACKHAWKS' holster also has excellent retention abilities due to its level 2 retention features. Aside from its strap, the holster secures your gun using a thumb-release retention system. The retention system's three-position release feature enables it to accommodate any hand size.
Aside from the Beretta M9A3, BLACKHAWK's holster can also fit 150 other semi-automatic handguns, and that is thanks to its multi-fit feature.
However, this handgun holster can be somewhat flimsy due to its polymer material.
Pros
The free-floating design prevents scratches
The multi-fit feature enables it to accommodate any handgun
Level 2 retention
Cons
Somewhat flimsy for a few users
---
2. Cardini Leather IWB Leather Holster
The Cardini holster is made of high-quality cowhide and comes with a suede fabric interior, protecting your handgun from scratches and other damages. It comes in two colors: black and brown.
Being made of leather, the holster easily conforms to the user's body shape. As such, it is quite comfortable to use and easy to conceal. Plus, the black sweat shield also aids in concealment and prevents the holster from getting dirty.
Cardini's leather holster is an IWB holster with a broad strap that can fit belt widths up to 45mm or 1.75 inches. The holster also features a steel spring clip to further secure the holster and make it easier to remove.
However, like all leather holsters, this model also needs a "break-in" period before it can get comfortable.
Pros
Made of premium cowhide
Suede fabric interior
Secure with belt strap and steel spring clip
Cons
Requires a "break-in" period before it can be comfortable to use
---
3. CYTAC Polymer Universal OWB Holster
The CYTAC holster is made of polymer, making it lightweight and easy to carry. It comes in black color and features a simple and straightforward design.
CYTAC's polymer holster comes with a paddle attachment for its retention. Its 360-degree rotation enables the user to wear it on belts with widths up to 2 inches.
Moreover, the holster also automatically locks the handgun in once in place. You will know once the gun is secure since the holster produces a clicking sound. You can release it by pressing the button.
Aside from the Beretta M9A3, the CYTAC polymer holster is also compatible with other handguns and pistols. However, this holster presents some sizing issues for some users. Nevertheless, it is still one of the top-rated holsters in this category.
Pros
Features level two retention with a thumb-lock mechanism
Polymer materials make it lightweight and easy to carry
Suitable for various handgun and pistol models
Cons
Sizing issues for some users
---
4. Fobus BRV Paddle Concealed Carry Holster
The Fobus holster features a polymer construction and comes in a simple and ergonomic design. Like other polymer holsters, this model is also lightweight and easy to carry.
The Fobus holster boasts the company's patented passive retention system. Once the holster is on the belt, the retention system acts like a spring and secures the handgun in the trigger guard area. You can deactivate the system by pressing the button.
Moreover, this holster also features a rubberized paddle to keep the holster in place. Furthermore, you can keep the handgun in place using the retention adjustment screw for extra retention.
The Fobus holster's low-key design also makes it easier to conceal and carry. It is also suitable for other handgun models.
However, the holster can sometimes scratch the gun's finish.
Pros
Secure retention system
Low-key design for easy concealment
It comes with a rubberized paddle
Cons
Might scratch the gun's finish
---
5. GHFY Tactical Drop Leg Holster
The GHFY holster is made of high-quality nylon and comes in camouflage. The company is also well-known in the industry due to its top-notch products.
While leg holsters might take a while to get used to, GHFY's holster is relatively easy to use. Its wrap-around design enables the user to attach it to their body via the waist belt and the leg, ensuring that it is secure and in place.
However, the user can easily adjust it to their body frame using the leg straps, Velcro straps, and the quick-release button. The holster also comes with a magazine pouch for the gun user's convenience.
Aside from the Beretta M9A3 pistol, this holster is also suitable for other pistols, handgun, and revolver models.
However, this holster can be somewhat flimsy and inadequately support the gun due to its material.
Pros
Features a wrap-around design, securing it in place
Universal fit
Easy to adjust
Cons
---
6. MASC Premium Leather Vertical Shoulder Holster
The MASC shoulder holster is made of premium, high-quality leather. Like all its products, this shoulder holster is also hand-molded for a better fit. It comes in a beautiful brown color.
The MASC shoulder holster comes in three parts- the holster itself, the leather harness, and the magazine case. The harness' screw-rivet system enables the user the adjust the item to their body frame and size. Moreover, the shoulder straps can accommodate chests with widths up to 48 inches.
This shoulder holster also comes with plastic tabs for fast pulls and easy access. Its design provides for slight rail space, protecting both the holster's leather and the gun's muzzle sight and finish.
However, while easy to conceal, shoulder straps can be difficult to use, especially for beginners.
Pros
Easy to adjust and use
Accommodating measurements and features
Made of premium leather
Cons
It might be complicated to use, especially for beginners
---
Other Important Factors to Consider
What is a Beretta M9A3 holster?
A Beretta M9A3 holster is specifically made for and fitted for the Beretta M9A3. Using the wrong or an ill-fitting holster can be detrimental since it does not provide the appropriate grip and support. As such, you might encounter and experience a few problems during usage.
Why do you need a Beretta M9A3 holster?
Holsters are eternal companions to any firearm. However, some users may find them uncomfortable or useless. Nonetheless, they are beneficial for your firearm.
The primary purpose of holsters is really for safety, specifically for the user and their surroundings. Once in place, the holster completely covers the gun's trigger. Hence, they prevent the user, especially beginners, from accidentally activating it and shooting.
The holster's trigger guard also lessens the time for you to load and unload your gun. You can just put it on safety and slide it back into the holster without worrying about accidentally shooting it.
Holsters also aid in concealment. Yes, they can be bulky when hidden under clothes; however, their design creates the illusion of another object like a cellphone or wallet. As such, you will not be giving your position right away.
Holsters also make it more comfortable to use and keep your gun stable. Aside from their other functions, they are a storage stage for your gun. Holsters keep your gun in a stable position, enabling quicker and easier access.
How to care for and clean the Beretta M9A3 holster?
Holsters can be a hotbed for sweat and grime. To ensure their quality, they also need routine cleaning and maintenance. Luckily, you don't have to do it every day. Most users clean their holsters every two weeks or as needed.
For general cleaning, you can use a rag to wipe down the holster to remove the dust and debris. For deeper cleaning, use warm water and soap solution. Many users suggest using saddle soap since it is effective and does not harm the holster.
If you are using a leather holster, you will need to condition it with oil after cleaning it. Take note, the oil conditioner should be made of gentle ingredients lest it damages the holster's material. Remember to only apply the oil on the gun side of your holster.
Besides the cleaning, you should also check the holster and inspect its parts regularly. Ensure that the holster sits snugly and fits tightly on your belt. Check its loose parts, such as metal clips, screws, and the like, and check for damages.
Once you have identified the damages, make sure to replace these parts immediately.
Where to buy it?
Holsters are available in any of your local gun and tactical store and other specialty shops. Some department stores are also offering them.
Holsters are also available online. If you already have a specific manufacturer in mind, you can directly go to their website to order. Otherwise, you can also purchase holsters on trusted online shopping sites such as Amazon, eBay, and the like.
---
Conclusion
Looking for the best Beretta M9A3 holsters can be a rather challenging task due to the various types and styles available in the market. However, hopefully, the article was able to provide you with the necessary information and factors to consider.
While that may be so, what holster to buy ultimately depends on you. Choose a model that feels comfortable enough for you while meeting all your needs. Having a budget range will also save both your time and effort. This way, you can effectively narrow down your search and focus on models that you can afford. Happy shopping!