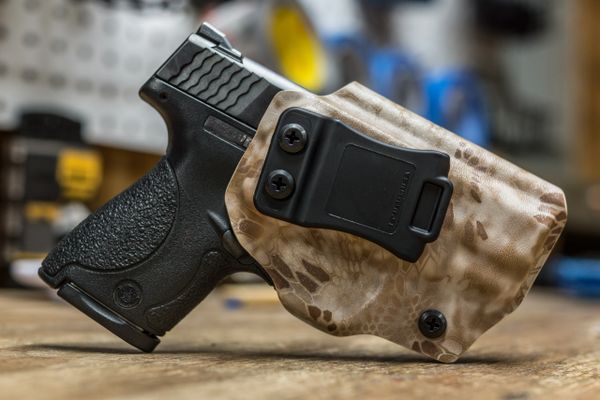 Kydex is the brainchild of Rohm and Haas Company, a materials manufacturer working with the aviation interior industry. By the late 1960s, the company realized that the Kydex thermoplastic sheets could be turned into something more given its malleability properties.
Today, Kydex is now a general term used to classify plastic holsters. This is the new and more popular material being used in creating holsters and has more advantages when compared to other materials like leather.
This plastic-life composite material was initially used in aircraft interiors. It is transformed into extremely thin sheets that can be molded to your gun's size and style when heated. With Kydex holsters, it can create a perfect replica of your pistol, including every nook, cranny, and angle.
Advantages of Kydex Holsters
Considered a competent and worthy investment, Kydex holsters is a forerunner among all the available holsters on the market. It is meticulously designed and precisely engineered that you would have to question yourself why you didn't get one sooner.
If you still have hesitations about getting a Kydex holster, here are some of the perks and wins of owning one:
Perfect and Secure Fit – once a Kydex cools down, it will retain the molded shape of your gun, and it becomes a durable and very rigid holster. One feature that makes Kydex stand out is when you put in your gun and slide it to your holster, you can hear your gun snap into place. You can even confirm it by feel that it is secured.
This is important when you are in a situation that is confrontational and close-ranged. You don't want your assailant or your opponent to use your gun against you quickly.
You can test this yourself by taking your holster out and turning it upside down. And you can even shake it, and your weapon will stay resolutely locked and not fall out of the holster.
Long-term investment – unlike leather which can lose its shape after years of use, Kydex holsters are designed to keep their shape for a long time. You can use this holster longer and be confident that it will function and serve its purpose like it did the first time you used it.
Easy re-holstering – this can make all the difference if you only have a single hand free to reholster your weapon. When faced with difficult situations, you can't afford to get distracted and use both hands to re-holster your gun. These few seconds can be a life-and-death situation. Thanks to the rigid design of Kydex holsters, you can have a more effortless and seamless experience of reholstering with one hand.
Disadvantages of Kydex Holsters
Reduced Comfort – while a rigid design keeps your gun in place, it might cause you some discomfort and even pain after wearing this holster for extended periods. Having this stiff material pushing and pressing down on your body parts is not a pleasant experience.
Not too Weapon Friendly – another complaint against Kydex holsters is they can cause slight damages to your gun. This is because these holsters have points where they can rub up against your gun and impact its finish.
Limited Use – Kydex holsters are not the general kind of holsters you can use for several weapons. You can only work one model for a single Kydex holster. If you have several guns and want them all to be sheathed by a Kydex holster, it will be a single holster for every model and brand.
Types of Kydex Holsters
Knowing the different kinds of Kydex holsters is vital so you can guarantee that they can meet your needs and serve their purpose well.
Inside the Waistband (IWB) Kydex Holsters – these are intended for easy concealment and user comfort. You can wear this kind of holster all day long without struggling with any uneasiness or nagging body aches.
Outside the Waistband Holsters (OWB) Kydex Holsters – this is intended for a lesser concealed option. They are comfortable to wear and convenient to access.
How to care for and maintain
One of the more powerful features of Kydex holsters is it requires very minimal maintenance. It is resistant to oil, solvents, and sweat. You don't need cleaning agents, lotions, and conditioners to clean it.
All you need is to use lukewarm water and soap to wipe it clean, and you are all set. If there are some stubborn stains or heavy dirt, you can use a soft bristle brush. If cleaning daily is not possible, a three-time weekly care routine should be enough.