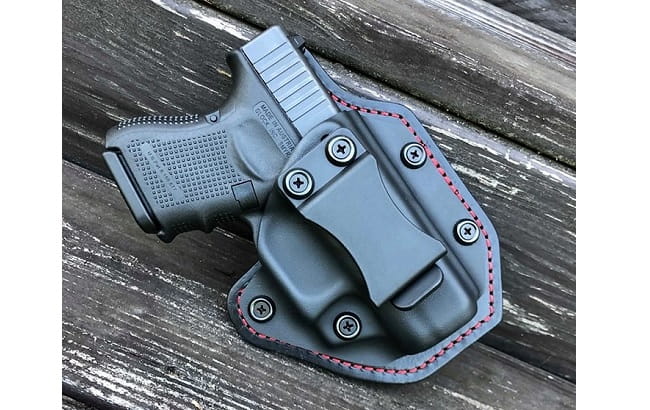 Modern gun owners are fortunate because they have plenty of options when choosing the best weapon-carrying system. One accessory that is growing in popularity is the hybrid holster. This type of handgun-carry technology offers exceptional stability, comfort, and customization. So, what is a hybrid holster, and what else do you need to know about it? Let us find out.
What is a Hybrid Holster?
A hybrid holster is a weapon-carrying system that features at least two different materials. Traditionally, gun holsters come in genuine leather materials. Other manufacturers use neoprene, thermoplastic, or nylon in their holster design.
Conventional hybrid holsters have a soft and pliable backing, often made of leather or neoprene. The flexible nature of these materials makes it ideal for contact with the user's body, minimizing friction and irritation while improving overall comfort.
The holster shell that houses the gun barrel and trigger features advanced hard polymer materials. It protects the weapon against dust, dirt, vibrations, shocks, and other unwanted elements. The shell's interior often comes with a soft lining to protect the firearm against scuffing and staining.
Advantages
The hybrid holster's unique design gives it exceptional stability. The backing almost always features a two-clip system spaced wide apart that you can secure in your belt or waistband. It prevents the unnecessary shifting and tilting of your weapon. Weapon stability provides predictability when drawing your gun because you know where it is.
Another advantage of a hybrid holster is comfort. Some manufacturers make their unique holster backing that improves breathability, moisture-wicking capability, and ergonomics. Others use either leather or neoprene, two materials known for comfort.
Customization is another advantage of a hybrid holster over other types. High-end hybrid holsters allow you to adjust handgun retention, angle or cant, and depth. It is perfect for all body types.
Disadvantages
The main issue about hybrid holsters is that it takes time to put them on in the waistband or belt because of its two-clip system. It is also larger than other handgun holsters, which can be a nuisance to some. A hybrid holster is also not immune to wear and tear, especially the leather backing. It can impede weapon draw.
Types of Hybrid Holsters
The main thing to understand about a hybrid holster is that it always features a hard polymer handgun shell and a non-polymer backing material. As such, you can find a hybrid holster across the different holster designs.
These hybrid holsters put your handgun inside your waistband, ensuring optimum concealment without sacrificing ease of weapon draw. An appendix holster is a popular IWB subtype.
Like an IWB holster, this weapon-carrying system clips in your waistband or belt with the gun outside the body. It provides excellent access to your firearm. A paddle holster is a good example of an OWB holster.
Perfect for concealing compact and sub-compact handguns, a hybrid ankle holster secures your weapon on the inside of your non-dominant leg just above the ankle. It is the holster of choice of uniformed officers as a carrying mechanism for their secondary firearms.
The quintessential handgun concealment method, shoulder holsters provide optimum comfort and ease of weapon draw. These holsters distribute weight evenly, ensuring unrestricted mobility.
How to Care & Maintenance
Caring for and maintaining a hybrid holster requires an understanding of its component materials. The hard polymer shell does not demand meticulous care, except for regular and frequent dust and dirt removal. Wiping these surface contaminants from the casing should keep it looking brand new.
Maintaining the backing can be tedious if you have a leather material. You must clean it with warm water and leather-friendly soap when it gets too soiled. The periodic application of a leather conditioner is also essential in keeping its integrity. However, one should never use these products more often than necessary because they can undermine the leather's strength.
Neoprene or nylon backing does not require complex maintenance. A simple dusting of its surface should keep it in pristine condition. Occasional washing can also help.
Conclusion
A hybrid holster is a type of weapon-carrying system that incorporates at least two different materials in its design. However, the handgun shell should always feature a hard polymer composite material to give the holster exceptional stability, customization, and gun retention characteristics. The next time someone asks you what is a hybrid holster, you already know what to say.