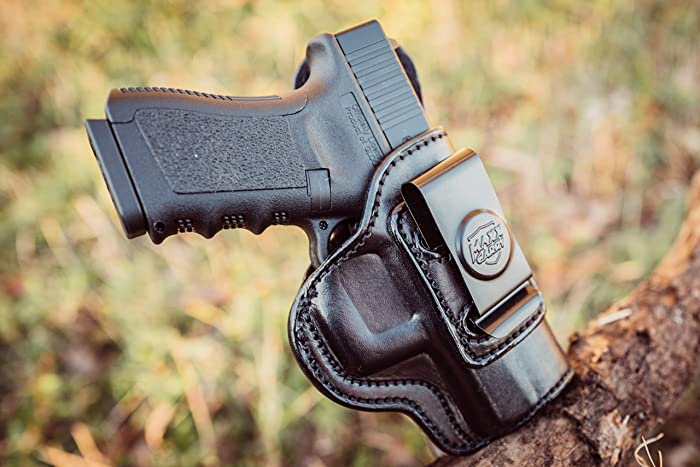 Are you looking for the best Walther PPS M2 holsters? The Walther PPS M2 is a semi-automatic and slim-profile pistol. It is ideal for conceal carry. This pistol is also lightweight, but it can shoot hard hitting centerfire cartridges. It is preferred by those looking for a personal defense pistol as well as a secondary firearm for the military men. This powerful weapon is a striker-fired pistol that has a smooth trigger. It has a steel slide and matte black coating, which can resist corrosion, too.
More so, it has a frame made of polymer along with a non-slip and textured grip surface. This firearm is with an easy to reach magazine release with the shooter's thumb. However, this concealed carry firearm requires a nice-fitting holster that can offer it with security and the user comfort. In the following are the top recommendations among gun owners who are using a holstering device to keep their weapon secured and safe. Let's begin.
---
What is the Best Walther PPS M2 Holster
See also:
---
Top 6 Best Walther PPS M2 Holsters Reviews
1. Best Walther PPS M2 IWB Holster: Concealment Express IWB KYDEX Holster
If you're looking for an inside the pants holster, you should consider the Concealment Express IWB KYDEX Holster. It is easy and comfortable to wear, offering user ease even for a long time.
I'd also like to note that Walther PPS M2 is comfortable to wear inside the waistband for concealed carry. It is made using a crafted aluminum mold, ensuring consistency and fit. A it is made of KYDEX, which makes it lightweight and comfortable to wear.
This model is also with an adjustable cant and posi-click retention. It will secure your weapon more securely in place. The carry angle is also adjustable up to 20 degrees, allowing for a more comfortable wearing of the holster especially for long hours. In addition, it is compatible with claw and can eliminate printing. Overall, this holster is one of the best choices for a Walther PPS M2.
Pros
Claw compatible
Adjustable cant and posi-click retention
Lightweight KYDEX
Cons
Carbon fiber scraping issues
---
2. Best Walther PPS M2 OWB Holster: Concealment Express OWB Paddle KYDEX Holster
Are you looking for an outside the pants holster? Don't forget to include the OWB Paddle KYDEX Holster on your list. It is with useful features, which make it easy to use, comfortable and long-lasting. I also liked that it has a black color, which adds to its sleek and classic appeal.
It also has an undercut trigger guard, preventing any interference in the draw. I also liked that it has a swear guard along with a rear sight shield, protecting the pistol from moisture and sweat. It is also ideal for concealed carry because of its stealth belt clip.
this model is also with a posi-retention click along with an adjustable cant. You can also wear it comfortably outside the pants under an untucked shirt, allowing for concealed carry. This model also has aluminum molds, adding to its consistency and durability.
However, some users reported of fitting issues. Still, it is one of the top choices around for its quality, durability and overall design.
Pros
Comfortable OWB holster
Nice fit and quality
Made in the USA
Cons
Fitting issues for some users
---
3. Best Walther PPS M2 Leather Holster: Maxx Carry IWB Leather Gun Holster
The Leather Gun Holster is versatile that it can be used also for a Glock 43 and 43X 9mmm, to name some. So, if you also have these firearms, you can use this holster for them. One of the things I liked is its leather construction. It gives the holster a classic look and appeal.
The Maxx Carry IWB is perfect for a comfortable wear. It is also suede lined in the interior, protecting a firearm from scratches and scaping. Plus, this model is ideal for long hours of wearing because it comes with a full length sweat guard. It also features a high back, offering a nice shield for the firearm and the user's body.
However, it is not for right hand draw, but overall, I liked its overall design and construction. It does not also print on clothes, making it great for concealed carry.
Pros
Versatile for different pocket pistols
Full length sweat guard
Premium leather material
Cons
---
4. Best Walther PPS M2 Shoulder Holster: Barsony New Vertical Shoulder Holster
The Barsony New Vertical Shoulder Holster is suitable for the Walther PPS M2 because of its nice fit and design. First, it has a precision stitching, making it more durable for better value. It is also made of CORDURA nylon, which is lightweight and compact, for easy carrying.
I also liked that it can offer size adjustments for a better fit. It also has a two-way height adjustment that I also appreciate. The shoulder holster also has adjustable shoulder straps.
You can also adjust the chest size for up to 50 inches, allowing for more comfort while keeping it in style with a shoulder holster. It is also easy to wear and lightweight aside from being able to secure the gun in place. People wearing a secondary firearm might also want a shoulder holster like it.
While some users had reported of making multiple adjustments to make it work, this holster is still a top rater for its solid features.
Pros
Different options for wearing
Four-way size adjustment
Adjustable strap
Cons
Might have to make many adjustments before it can work
---
5. Best Walther PPS M2 Appendix Holster: Concealed Carrier Universal IWB Holster for Concealed Carry
The Concealed Carrier inside the pants holster is another product not to miss when comparing your choices. If you are looking for an IWB safe and comfortable holster for concealed carry, you might want to look at it.
The right-handed Universal IWB Holster can offer max comfort, and that is thanks to the neoprene material that has air holes. These holes allow leg ventilation, making it more comfortable to wear. It is also designed with soft foam innards, preventing any discomfort and rubbing.
However, it is not for left orientation. Overall, I liked that it can offer no printing and quick draw. These are some of the things that we must be checking when buying a holster for the PPS M2. You can also have peace of mind of no extra movement of your firearm for its metal belt clip. Finally, it has a nice design, making it great for concealed carry.
Pros
Universal for different firearms
Maximum comfort and style
Neoprene belt clip holster
Cons
---
6. Best Walther PPS M2 Pocket Holster: BORAII Eagle Pocket Holster
This Eagle Pocket Holster is specially designed and made for the Walther PPS M2, so you won't have to worry about any fitting issue. It is also by BORAII, giving you peace of mind of quality and heavy-duty performance.
This pocket holster fits well in the pocket and is ideal for small pistols like the PPS M2. Its design also lets loading and unloading the weapon safely while it's holstered. It also helps in mitigating discharges when loading. The BORAII Eagle Pocket Holsters is also made in the USA and is one of the most trusted in the industry.
But then, some reports about it not holding on consistently is a problem for some people. Overall, it is a highly-recommended holster for its design and performance. It is also comfortable to wear even for many hours.
Pros
Affordable and heavy-duty
Fits well in the pocket
Discreet and prevents unnecessary movements
Cons
Not holding on consistently
---
How to Choose the Right Walther PPS M2 Holsters: The Complete Buying Guide
Just as you would select a gun, you must also select the right kind of holster for your PPS M2. It is something you must consider so that you can have a satisfying use with it. In the following is a quick guide on how to go about the selection process for your Walther PPS M2 holster.
Think about the material
It is one of the main considerations when looking for a holster. Remember, you should be comfortable wearing your gun. To make it possible, you should pick the right material for your holster. There are many kinds of materials used in the production of these devices.
For one, there is leather, which is tough and heavy-duty. It can also mold to the gun shape as well as your body. But then, it can wear out in time, especially when always exposed to heat or sunlight. Thus, it needs maintenance from time to time to keep its retention. Another is KYDEX, which is tough to last long and won't lose retention. Nevertheless, different materials have their specific features that you need to check to determine what is right for you.
Wearing preference
Would you like a shoulder holster? Would you prefer a pocket holster? Or maybe, would you like an inside the pants or outside the pants holder? Think about the manner to wear your holster based on your preferences and style.
Lifestyle
You must keep your gun concealed until you need it so that people will not notice that you're wearing it. It is also the reason that you must think about your lifestyle when selecting a holster. If you're always on-the-go and in different situations, you can check out holsters with a retention device to ensure that your gun is always secured.
Price
When shopping around for your choices, you must first think about the budget you want to spend for your holster. Some are more expensive than the others, especially leather ones. Before investing your time to pick one, you can narrow down your choices based on your budget. It will also save you time and effort.
Reviews
Check and read reviews. What are people saying? Knowing their feedback, you can figure out which holsters are nice fitting, holding on the firearm well and staying in shape for a long time. It will also help you have an idea on the right kind of holster that suits your lifestyle and preferences.
Fit
Check that the holster is fitting for your Walther PPS M2 pistol. While some universal holster can also work, not all are created equal. You can have problems with the fit. If unsure, you can also contact the customer support to figure out if the holster is matching your pistol. You can also get started in the comparison with the reviews featured here for more ideas.
There you have the most crucial factors when selecting a holster for your Walther PPS M2 pistol. Consider them when weighing your options to choose the right one for your lifestyle and preferences.
---
What Is a Walther PPS M2 Holster?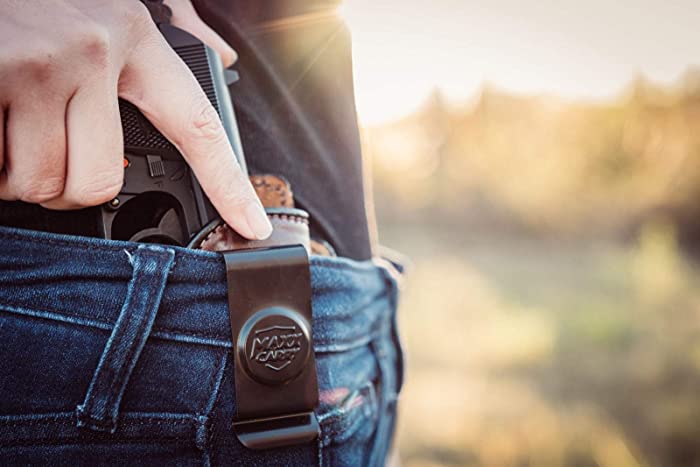 It is a special gun accessory designed and made to conceal and secure a PPS M2 pistol. If you own this firearm, you should have this holster to reap benefits, including comfortable wear, long-lasting use and firearm concealment. Get started with the selection process in the reviews earlier and choose the right one for you.
---
Types of Walther PPS M2 Holsters
The Walther PPS M2 holsters are available in many types. It is why you need to know their specific features for the right expectations. In the following are the most basics of all holsters that you can pick from and use.
OWB Holster
The Walther PPS M2 outside the pants or outside the waistband holster is one of the most popular holster types. It is chosen by those who want a quick draw feature. With it, you will carry your firearm on your waist. While you can conceal it through layering, take note that it is typically for open carry. So, if you're finding a concealed carry with this holster, you should wear it under a jacket or loose shirt. Otherwise, it might lead to printing, which might be an issue if you're in a concealed carry state.
IWB Holster
Do you want to wear a holster inside the waistband? You might want to check out one of these holsters that you tuck into a waistband with a loose shirt draped or tucked over. It is one of the most versatile holsters around in design. It is also available in many material constructions.
Shoulder Holster
This holster supports a holster through strap/s on your shoulder. But then, you should know that it needs layering for concealment. It is also uncommon for some that want a quick draw. This holster can be ideal for those using a backup pistol, like law enforcement guys.
Pocket Holster
If you want a pocket carry, you might want to check out this holster that goes into your pocket. It is ideal for small pistols like the Walther PPS M2.
Appendix Holster
This M2 holster is a subset of an inside the pants holster. It has a sleek and compact design, allowing for an appendix carry position. Usually, it is placed in front of the waistband.
These are the most common types of PPS M2 holstering device you should know so that you can make a better decision later. You can also begin with the comparison process using our buying guide earlier.
---
Why Do You Need Walther PPS M2 Holster?
Walther PPS M2 Holster offers plenty of benefits for you. If you have a Walther PPS M2 pistol, you should have one to ensure that your gun is safe and secured. It can prevent the accidental firing that might cause an injury to yourself or another person. With a holster, your gun will stay in place without creating an unnecessary movement, especially if you're in the law enforcement or surveillance operations.
Wearing a holster, you can also prevent the dropping or damage to your gun. However, you need to ensure that you're buying a holster that offers the right fit. Otherwise, it can be too tight to damage your pistol.
One is also comfortable to wear. If you're in the military or someone who wears your firearm all day, you should have a holstering device that can offer comfort and fit. With it, you can have peace of mind that your movement will not be hindered by the holster.
A quality holster is also long-lasting. It will not suffer from wearing out even for the years to come. It is one of the features of a heavy-duty holster that you should look for. A holster is also easy to maintain, especially KYDEX models. It does not require much cleaning and maintenance unlike leather.
However, if you're after for a classic appeal, then you can also pick a leather holster. It is also durable provided you follow the usage and maintenance instructions. You must not also expose it to high heat to prevent it from wearing out.
---
Frequently Asked Questions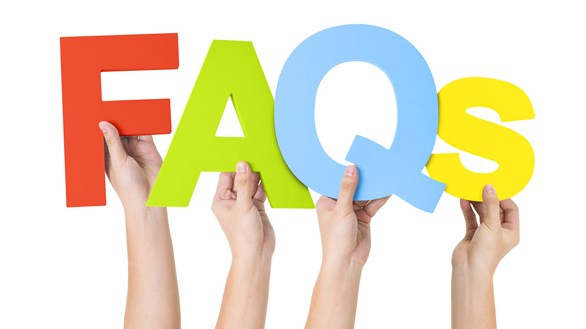 What are the most popular Walther PPS M2 Holster brands?
Aside from the above factors, you must consider the brand of PPS M2 holsters. Trusted brands include Concealment Express, Maxx Carry, Barsony, Concealed Carrier and BORAII. You might want to check them out when comparing your options.
What is it made of?
The classic holster is a leather holster, typically associated with people in the law enforcement. Leather is the standard material, which is quieter than other materials are. But then, it can be damaged easily when always exposed to high heat. As a result, it can wear out faster than other materials like KYDEX.
The other material used is a nylon, which is lightweight and durable. It is chosen for concealed carry because it is not bulky. It is also versatile that it can be used for different firearms. However, they might not be able to provide that much grip in some cases.
This material is also used in bulkheads and is considered better than the others are regarding maintenance. It does not require much cleaning effort. Many of these holsters are made for a specific gun. It has less tendency to lose shape.
How to use?
It is easy and straightforward to use this holster. It depends on the placement of the holster. For example, pocket holsters are worn inside the pocket, especially for small firearms and pistols. Nevertheless, the usage is based on where you are wearing the device, but in all cases, it is easy to wear it.
Where to buy it?
You can buy these holsters in many stores, including brick-and-mortar gun shops in your community. Many manufacturers also have their websites where to buy these holstering devices. Online, there are also marketplaces where to find these items. They include Amazon, eBay, and other places. Before adding a Walther PPS M2 holster to cart, study your options well and compare based on features you want your holster to have.
---
Conclusion
By now, you probably have an idea on the best Walther PPS M2 holsters on the market. We're hoping you're able to choose based on the material, price, and additional features you want your holster to have.
Make sure that you weigh your options well also according to the most trusted brands of holsters. These are reputable names in the industry trusted by military men and civilians who want a reliable holster that can last long and make their gun more secured.
Finally, determine your personal style and wearing preference, as these holsters are also available in different configurations. At the end of the day, choose among the Walther PPS M2 holsters matching your needs. Buy a PPS M2 holster today!