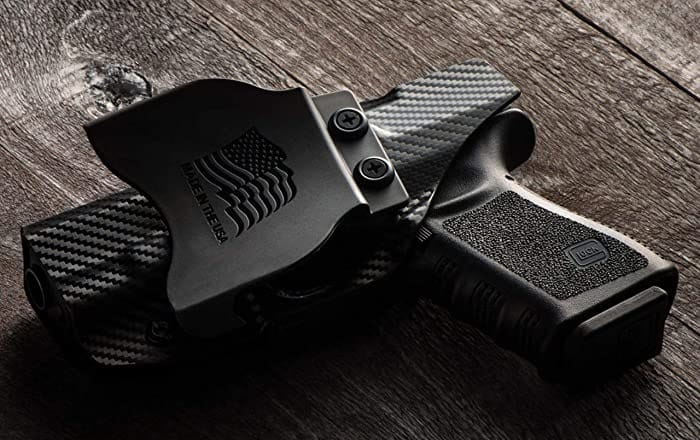 What is a paddle holster? A paddle holster is usually the preferred outside the waistband (OWB) carrier of civilians, undercover cops, and police authorities. It makes use of a firm "paddle-shaped" flat or sometimes a broad contoured clip to securely hold it in place to your belt or inside your pants' waistline.
A paddle holster is made up of two parts: the paddle and the holster. The paddle part is intended to snugly fit against your body inside your pants while the holster holds the gun. The holster is worn outside than pants. These two parts are stitched together to create a paddle holster.
It is a popular option to carry concealed weapons because of its convenience. It can easily be clipped on your waistband and can be used by both men and women. Removing it is as easy as you need to pull it out and store it somewhere safe.
Advantages of paddle holsters
With what is a paddle holster already defined, understanding what's in it for you when you have one is equally essential.Here are the advantages of paddle holsters:
Ease of Use – due to the holster cradling your gun outside your pants, attaching and detaching your holster means a simple gesture of pulling up the gun and pushing it down. This easy and convenient on and off design of paddle holsters implies that you don't need to pause and look at your holster to get your gun out.
Comfort Wear – compared to inside the waistband holsters, paddle holsters are considerably more comfortable. It molds to your body, and it is designed for all-day wear without your movement feeling restricted.
Ease of Draw – paddle holster a favorite because having access to your weapon in seconds can make all the difference in emergencies. You have control over where you want to carry your gun and easily have access to it which can help you buy time and save lives in high-pressure circumstances.
Ease to Re-holster – as important it is that you can draw your weapon at your call sans the fumbling around, it is also crucial that you can re-holster your gun without the need to look down and getting distracted. This plays a vital role, especially when you need to be 100% focused on your target.
Carrying Options – due to the design of paddle holsters where they can easily be attached, you are given more freedom where and how you want to angle your gun. It is recommended that your weapon is placed on your stronger side, but with paddle holsters, you can customize the position of where your gun is to where you are also most comfortable.
Disadvantages of paddle holsters
Like all things, paddle holsters also have their set of shortcomings. Knowing these disadvantages will help you identify choices or at least create compromises with your paddle holster. The important element here is awareness of the possible setbacks.
Lesser Stability – due to its attachment methodology, paddle holsters might not provide you the stability expected from a belt holster. Unless your preferred choice of pants is naturally snug, then there might be instances where the placement of the holster may shift.
This is not a significant challenge, but you might be caught off-guard when you suddenly need your gun, and it is a few inches away from where you originally placed it.
Reduced Control – if you are in an altercation with an assailant, your paddle holster may not be the safest option for you because there is a possibility that your weapon can be pulled away from your holster. Again, due to its convenient design, it is also easy for another person to get the gun out for you.
Not recommended for big tummies – if your mid-section is on the large size, it is best to steer clear of paddle-holsters. This option might not be the most comfortable one since it will mold and press against your midsection.
Types of paddle holsters
Today, most paddle holsters are classified based on the material used in creating them. The most common leather paddles are leather and plastic.
Leather paddle holsters – as the name suggests, this is made of leather flaps stitched together. Some designs would incorporate a small steel plate or other hard materials to make it stronger. Using leather paddle holster is simple. You need to insert the paddle either behind your waistband or between your belt and waistband.
Plastic paddle holsters – for this kind, hard plastics such as Boltaron, Kydex, and molded nylon are used as the primary material. Plastic paddle-holsters are worn the same way as leather ones.
How to care and maintain for paddle holster? 
Daily to regular cleaning and maintenance of your paddle-holster is essential, primarily if you use it every day. As it regularly contacts your skin, sweat, and dirt, caring for it should be a routine.
For leather paddle-holsters, you should always wipe it every after use. You can use a moist and soft cloth to wipe it clean but make sure that you dry it completely in front of a fan. Also, as tempting it is always to use a leather conditioner to soften your paddle-holster, do not overuse it to the point that it ruins the shape of your holster.
Plastic holsters are easier to maintain as you need to wipe them with a soft cloth and warm water.