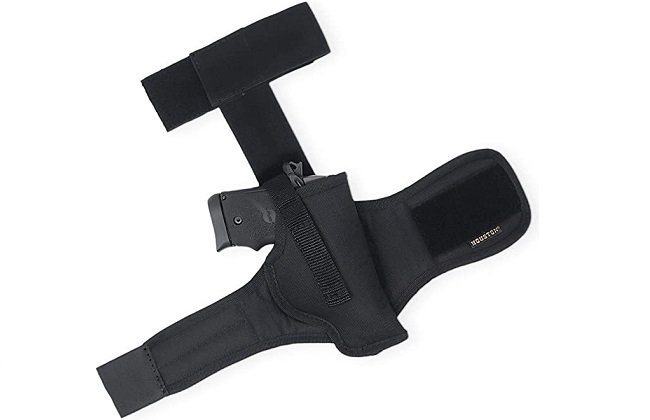 Although not as popular as shoulder and waist carry systems, there are still a lot of people who believe in an ankle holster's excellent concealment capabilities. Many law enforcements officers and military personnel use this holster type to carry and conceal their secondary or backup weapons. It can be a life-saver if you know how to wear an ankle holster properly.
How to Wear an Ankle Holster
Step 1. Check If Your Handgun Fits into an Ankle Holster
Not all guns make excellent candidates for an ankle carry. For example, it would be impossible to conceal a Smith & Wesson SD9 VE or a Ruger SR1911 on your ankles without creating the pistol's telltale form. These weapons can also make movement cumbersome because of their weight.
Ideally, you will want to ankle-carry a compact gun or a sub-compact pistol, such as the Glock G43X, Smith & Wesson M&P9, and the Springfield XD 3.3. These are lightweight and have a small form factor that your pants can conceal on your ankles.
Step 2. Wear the Correct Pants 
As a rule, the thicker your pants' fabric material is, the better it is as attire for the ankle holster. Jeans are the best because they are thicker and denser than dress pants or slacks. Even if your handgun's butt pushes against the fabric, it will not create the characteristic gun outline that can alert other people to what you are carrying.
Always wear bootcut jeans or pants with a wider bottom opening. These pants minimize the printing of the handgun's outline on the fabric. It would be best to stay away from skinny jeans because it will be difficult to pull the pants' bottom over the gun. Avoid bell-bottomed jeans, too. The loose fabric can get in the way of effective drawing.
If you do not like jeans, you can try wool dress pants or khakis.
Step 3. Wear Tall Socks
No matter how smooth the holster's skin-side surface is, it can still irritate your skin if you wear it without socks. Tall socks halfway between your ankles and knees are best. They protect your skin, especially if you decide to use an ankle holster support strap to stabilize the holster.
It would also be ideal to match your socks' color to your ankle holster's color. Doing so will maintain the stealth of your weapon when the pant legs ride up in certain positions. No one will know you are carrying a handgun on your ankle.
Step 4. Wrap and Secure the Holster around Your Ankles
Most ankle holsters feature a single strap with Velcro, while others may have two straps. A few ankle straps may have a different closure mechanism. The straps can come in the form of either nylon or neoprene, both of which are soft and breathable.
Position the ankle holster above your ankles, ensuring the holster sits on the inside portion of the leg. Also, always place the holster on your non-dominant side. For example, if you are a right-handed shooter, you will want to draw your handgun from the inside aspect of your left leg.
Once you are okay with the holster's placement, you can wrap the straps around your leg and secure them. Do not over-tighten the straps to avoid diminishing circulation in the area.
You can also add another layer of protection by wrapping a holster support strap around your leg, slightly above the holster strap.
Step 5. Secure Your Handgun
Slide your handgun into the holster and push it in. Secure it with the holster's latch to keep it safe.
Stand up and roll down the pant leg. Ensure that the leg bottom covers the handgun without creating any characteristic bulge.
Try to move around and check if the holster retains your handgun. Walk, run, jump, and sit to check for fit. You will not want your firearm to fall off the ankle holster. You also do not want the holster to move around your lower leg as you move.
Step 6. Practice Drawing and Re-holstering Your Weapon
The most practical position to draw your weapon from its ankle holster is sitting. If you are standing and need to draw your firearm, you will have to drop on your knee first.
Practice drawing your handgun from the ankle holster by pulling the pant leg first. You should be able to pull your weapon out smoothly.
Conclusion
The ankle holster is not an ideal gun-carrying system for those who need instant access to their firearms. However, it offers the best concealment for your weapon. Learning how to wear an ankle holster properly can enhance gun concealment and improve pistol-drawing.